Posted by
copwatch
| Sun, 01/18/2015 - 11:18pm
story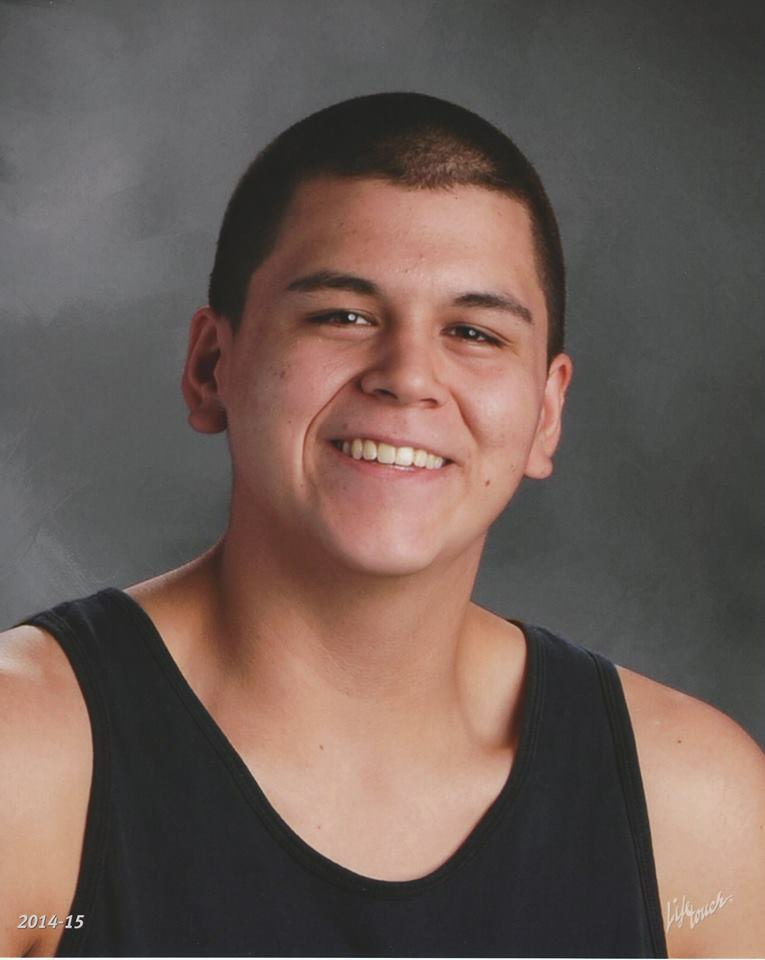 Family, friends and supportive community members will be gathering for a candlelight vigil on Jan. 17, 2015, beginning at 7 p.m. at the Willow Creek Early Bird Market located at 40640 Highway 299 in Willow Creek.
Richie was a resident of Hoopa California and was a member of the Hoopa Tribe. He had just turned 17 on Dec. 9. Richie was tragically taken from us on Dec. 18 at approximately 2 a.m. in Willow Creek, Calif., in an altercation with the California Highway Patrol.
Richie was born to his very proud parents Carlos and Leanne Estrada, along with his womb-mate twin sister, Carleana Michele Keduesche Estrada in Upland, Calif., San Bernardino County. Richie and Carlie were welcomed by their older sister, Celina, 12 years, and 6-year-old brother Carlos Jr.
Richie was a graduate of the Hoopa Valley Tribal Child Development Program and Trinity Valley kindergarten class of 2002. At Trinity Valley, he was the 8th grade class of 2012 valedictorian. Richie was currently a Junior at Hoopa Valley High School.
Richie had received numerous awards and recognitions during his short academic career for perfect attendance, honor roll, principal's honor roll, "GATE" Gifted and Talented Education Program, 8th grade class treasurer, Southern Oregon University ACADEMY Summer 2012, and Hoopa High School freshman class president. He participated in the TANF Youth Employment Program under supervision of Manual Sanchez at the Hoopa KIDE radio station, where he worked side by side with the general management staff, Joe Orozco Sr. and Jay Renzooli, producing daily PSA's and recording traditional stories for the community.
Richie spent his early childhood years playing with the Mad River Youth Soccer Program, Hoopa Tribal Recreation Youth Basketball, Klamath–Trinity Little League T-Ball, Minors and Majors KT baseball, Trinity Valley basketball team, Klamath-Trinity Wrestling Club, Hoopa Freestyle Wrestling Club, Six Rivers Youth Football, Hoopa Youth Football, where he was almost always a team captain, and Hoopa High School Jr. Varsity football team until he succumbed to a back injury damaging his L4 and L5 discs.
Richard loved and was loved by all he touched or who were touched by him. Once when he was 4 he was at Family Camp at Tish Tang, during the summertime. When he came up missing (he was a man about town early on) everyone began to search for him. He had walked back up the road to "visit" with his brother Eagle, whose image was on a tile alongside the campground road. His middle name, Tis'mil, is "Eagle" in Hupa. "Eagle" told him to head home, so he did.
When his grandfather pulled up next to him, he almost couldn't get him into the car. Eagle had told him to do something, and he was going to do what his brother had instructed.
He was part of a "crew" of friends who frequently went out camping at the river or up in the woods together. These boys ranged from teachers' sons, to business owners, to well respected community members. They are all good boys from good families. He was well loved by his crew.
This crew will be getting together after Christmas to celebrate Richie together, one more time, around a campfire. He was a popular babysitter among many in his community, and this loss is felt by so many of all ages. Richie loved everybody, and everybody loved Richie. One Richie bear hug could make your day.
Richie came from a law enforcement family. His maternal great grandfather, Oscar McCardie, was a Native police officer on the Hoopa reservation from 1904 until his murder in 1920. His grandfather LeRoy McCardie was a federal police officer and the first Native American deputy with the Humboldt County Sheriff's Department. His great-great grandfather Michael Philburn was police captain in Newark, New Jersey, retiring in 1940.
Richie is survived by his parents, Carlos and Leanne Estrada, maternal grandmother Michele McCardie, twin sister Carleana, brother Carlos Estrada Jr. & Crystal Hayden, all of Hoopa, Celina & Jesus Lopez of Los Angeles California.
Aunts, Norma & Ken McAdams of Hoopa, Wilifred & Tony Allire of Reedley, Calif., Jennifer Collins of Catlettsburg, Kentucky, and Melissa Collins-Brinkerhoff of Arlington, Virginia. Rachel & Art Lewis, Yvonne & Jesse Esqueda, Natalie & Manuel Altamirano, uncles, Rudy Pacheco, Fred & Martha Pacheco, & Tom Estrada, all of Southern California and Joseph Estrada Sr. of San Francisco.
Cousins Andrew Allire of Fresno, Virgil Pole Jr., Aaron and Paloma Pole, Amos Pole and Kim Peters-Pole, and Nathan and Leilani Pole of Hoopa, Jessica & Carlos Garcia, Sennette Beltan, Octovia Beltran, Christina Terrazas, Amanda Sayon, Joseph Estrada Jr., Natalie & Ron Robinson, Briana Estrada, Marlena & Michael Price, Irene Pacheco and & Rod Crayton of Southern California, Stephanie, Carmen, Juliana, Virgil III, Johnny, Margaret, Ariana, Lelencia, Aaron Ryan, Sequoia, Natia, Syliss, Marissa, David & Rubin Hector Rodriguez, Jason Beltran, Gabriel Terrazas, Maddy, Sicilly, Nya & Razi. And many, many more!
Richie is preceded by his maternal great-great grandparents, Rose Jackson of the Village of Medildin on the Trinity River, Madam Billy & Alfred Marion McCardie from the Village of Waseck on the Klamath River, Todia & Edward Echt of Seattle, Washington, maternal great grandparents Lena & Oscar McCardie, Erma & Al Philburn of New York, his grandfather LeRoy McCardie and Uncle James McCardie. Paternal Grandparents Natalie Estrada & Tomas Estrada, and cousin Isiah Rincon of Southern California.
Pallbearers Adrian Cape, Mike Donahue, Sregon, Kitsos & Mesu Gabriel, Jacob Hodge, Billy Logan, Dillon Mace, Stevie Masten, Aaron MacIntosh, Natia Pole, Muggins Peters.
Honorary pallbearers were Virgil Pole Sr, George Blake, Virgil Blake Sr., Charles "Chuckie" Carpenter, Joseph LeMieux, Alex Pratt, Arthur Jones, Wesley Crawford, Rafey James, Alexis Pratt, Carmen Marshall, Alexis Redhat-Lowe, Monique Wilson, Lacie Jackson, Lori Slater, Winnona Smith, & Angel Muro.
A wake was held at the Hoopa Community Center, Monday, December 22, 2014.
Richie's Funeral Service was held on December 23, 2014 at the Hoopa Neighborhood Facility Gymnasium with internment at the Jackson Family Cemetery on Pine Creek Road.
Memorial contributions can be made to his Coast Central Credit Union Bank Account & the Greater Rural Rescue Society of Hoopa.
Richie's life Moto, Peace, Live & Love!