Posted by
copwatch
| Thu, 07/04/2013 - 8:19pm
story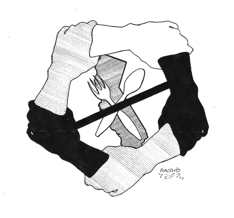 To see this at its original posting site: http://kersplebedeb.com/?wysija-page=1&controller=email&action=view&email_id=7&wysijap=subscriptions 
HUNGERSTRIKE NEWS
Vol. 3 #1, July 4, 2013
++++++++++++++++++++++
"What to the Slave, is the Fourth of July?"
Welcome to Hungerstrike News, a regular source of information
and media clippings about the upcoming 2013 prisoner hunger
and work strikes, set to begin on July 8th.
If you have news regarding the upcoming strikes, or know of
events related to the struggle, please let us know by emailing hstrikenews@yahoo.ca
While this newsletter exists in solidarity with various
other initiatives to support the prisoners' struggle, it
is an autonomous initiative. For more background
information and news about the current struggle, see:
On the Cusp of the 2013
Prison Strikes
We are nearing the start of the 2013 prisoner strikes in
the united states,  set to begin in just six days.
This will be the next chapter in the book of resistance that -
for many of us -  began in 2011, when thousands (and at one
point, over 12,000) people held in California prisons went on
hunger strike, for 21 ...
Pelican Bay Short Corridor
Collective: How many will die
when hunger strike resumes?
Introduction by Isaac Ontiveros, Prisoner Hunger Strike
Solidarity Coalition
After a mediation meeting June 19 ordered by a federal judge
between prisoners being held in solitary confinement at Pelican
Bay State Prison and the California Department of Corrections
and Rehabilitation (CDCR), prisoners issued the following
statement.
Wednesday's mediation stems from a federal lawsuit filed on
behalf of  prisoners at ...
Prepare to Stand in Solidarity
with Striking Prisoners:
the Pledge of Resistance
The Pledge of Resistance is a commitment people are being asked
to take before this next strike begins, promising at least once a week
to make a phone call, send a fax, or write an email, responding to the
inevitable crises that we know a mass hunger strike will entail.  Those
taking the Pledge are asked to provide their contact information (email),
and will be contacted every week with an action alert by the Hunger
Strike Solidarity coalition.
Signing up to the Pledge of Resistance is one concrete way that
people can act now – before the strike begins – to signal their
willingness to act on behalf of the prisoners once this engagement
begins.
As such, i strongly encourage everyone to sign this pledge, and to
act accordingly.
The Pledge can be signed online at the website of Californians
United for a Responsible Budget: http://bit.ly/121Ywqv
The 2011 Hunger Strikes
Remembered: Resistance
Against Neocolonial
Imprisonment and Torture
To understand what may be about to occur in prisons across the
united states – a potential hunger and work strike of unprecedented
scope – it is necessary to look back two years, to 2011.
In California, 2011 witnessed one of the most impressive prison
struggles in recent memory. For 21 days in July and 17 in
September/October, thousands of ...
July 5
San Franscisco: Model SHU Cell, Vigil, Rally and Rolling Fast in support of July 8 California Prisoner Hunger Strike; 10am-7pm @ Union Square, with Press Conference
& Rally 1pm. Contact: 510-926-5207 / stopmassincarcerationbayarea@gmail.com

 

Portland, Oregon: Stand With Prisoners on Strike! Public Transit Canvassing;
5:00pm - 7:00pm @ Lloyd Center/NE 11th Ave MAX Station (Stop ID 8374). E-mail: stand.with.the.prisoners@gmail.com
Phone: (503) 893-2914. Read more.
July 6
San Franscisco: Model SHU Cell, Vigil, Rally and Rolling Fast in support of July 8 California Prisoner Hunger Strike; 10am-7-pm, Justin Herman Plaza,
Rally at Noon.
Contact: 510-926-5207 /stopmassincarcerationbayarea@gmail.com
July 7
Oakland to Crescent City: 7pm - meet at MacArthur BART, Oakland to travel to
Pelican Bay State Prison (look for Stop Mass Incarceration banner).
Contact: 510-926- 5207 / stopmassincarcerationbayarea@gmail.com
July 8
July 13
Corcoran: Caravans will leave from MacArthur BART in Oakland at 9:00 AM and Chuco's Justice Center in Inglewood at 9:00AM. We will gather
at Cesar Chavez Park in Corcoran (1500 Oregon) at 2PM and then
march to Corcoran State Prison  where our demands will be heard!

Contact rachel@criticalresistance.org or 510-444-0484. Read more.