Posted by
copwatch
| Sun, 10/28/2012 - 2:21pm
story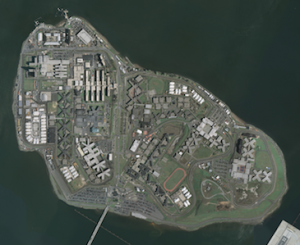 At a press conference this afternoon on New York City's preparations for Hurricane Sandy, Mayor Michael Bloomberg was asked about the safety of prisoners on Rikers Island, which lies near the mouth of Long Island Sound, between Queens and the Bronx. Bloomberg appeared annoyed by the question, and responded somewhat opaquely: "Rikers Island, the land is up where they are and jails are secured." Apparently unable to fathom that anyone's main concern would be for the welfare of the more than 12,000 prisoners on Rikers, Bloomberg then reassured listeners: "Don't worry about anybody getting out."
The last time a major hurricane was headed for New York–Irene, in August of 2011–Bloomberg gave a similarly terse response to a question about the island prison. "We are not evacuating Rikers," he declared even as other shoreline communities and City Island were cleared of residents. With little information forthcoming from the New York City Department of Corrections and Rikers left blank on the city's Evacuation Zone maps, prisoners' loved ones "were in a panic," says Lisa Ortega, whose 16-year-old son was being held on Rikers at the time. A story originating on Solitary Watch, "Locked Up and Left Behind," went viral, and thousands of readers expressed concern or outrage.
This time, the Department of Corrections (if not the Mayor) appears better prepared for inquiries about the status of Rikers in a hurricane. By Saturday, it had proactively posted a notice on its website stating:
Given its elevation, Rikers Island can withstand any storm up to and including a Category 4 hurricane. Rikers Island facilities are NOT in low-lying areas, and therefore like nearby small islands Roosevelt Island and City Island, is not seriously threatened by severe flooding.

The personal safety of New York City Department of Correction (NYCDOC) staff and the inmate population is clearly our top priority and in the highly unlikely event that an evacuation would become necessary, it would occur. The NYCDOC response to an unprecedented disaster of this magnitude would be integrated of course, into a city or region-wide strategy. The City has carefully reviewed Rikers Island, as it has done with the entire city, and no section of Rikers Island facilities are located in Hurricane Evacuation Zone A.

Be assured that NYCDOC staff will remain on Rikers Island and the facility is a fully self-sustaining entity, prepared to operate and care for inmates in an emergency if such an emergency develops.
Pressed for further details, the NYCDOC's Public Information office provided the following additional information:
The vast majority of Rikers Island is located in a No Flood Zone; only one facility is located in Zone C.  The first floor of that one facility may be vulnerable to flooding and in that case, those inmates would be relocated from the first floor to higher floors in the jail or moved temporarily to other facilities on Rikers Island. It is only a portion of the outer perimeter of the island – where there are no jails – that might be vulnerable to flooding, even in a Category 4.
Asked whether an evacuation plan does in fact exist for even more serious disasters, Deputy Commissioner Matthew Nerzig responded: "The short answer is yes. If it really came to that, and that is a scenario that our best intelligence tells us is extremely unlikely to occur, we would do that." But Nerzig emphasizes that when it comes to Sandy, Rikers simply is not vulnerable and will not need  to need to be evacuated. Those points, he says "need to be underscored because they put storm related issues in the right context and explain why our preparations are appropriate."
Despite such assurances, Lisa Ortega remains skeptical about the existence of a viable evacuation plan. She points out that the only exit from Rikers is via a single bridge to Queens, inadequate to serve as a secure escape route for 12,000 or more prisoners and staff. "The city needs to be able to share with us the specifics of their so-called evacuation procedure." She listed a number of questions she would like to see answered: "How and where would inmates be relocated to if need be? How long would their food and water supply last? If the bridge was not available for use, are there boat and life jackets enough for all inmates? What staff are designated to staff and are they trained for such emergencies?"
Ortega, a member of the New York City Jails Action Coalition (JAC) is also concerned by stories she says were told to her by her son and other prisoners on Rikers following Hurricane Irene. "Last year my son said inmates we all put on lockdown, and given sandwiches in their cells instead of being let out to eat," she says. "The guards told them it was so there would be no 'panic or possible takeover' by inmates." According to her son, the guards also told inmates, "'If shit goes down, we are out of here.'"
In the end, the real question may be whether it will ever be possible for the men, women, and children on Rikers to be truly safe, given the problems inherent in having a teeming urban prison on an isolated island–and whether the mayor and the people of New York City actually care about their fate. "[We need to] demand that DOC have a plan for the people living in Rikers Island," said Francisco Quinones, another member of JAC. "Remember that those jailed there are also human and deserve a chance to live."