Posted by
copwatch
| Sat, 02/11/2012 - 10:29pm
story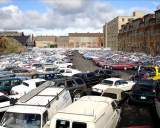 ESCONDIDO, Calif. — Police in California will soon stop towing cars from unlicensed drivers at sobriety checkpoints.
A state law that takes effect Jan. 1 is a major victory for advocates who say the vehicle impounds enrich cities and towing companies at the expense of illegal immigrants. Like most states, California denies drivers' licenses to illegal immigrants. Under the new law, they will get to keep their cars if stopped at the checkpoints as long as they are sober and can find a licensed driver.
The tows have been controversial in California, which allows police to impound vehicles for up to 30 days. That can easily rack up fees topping $1,000. Many unlicensed drivers surrender their vehicles to towing companies, who auction them off.
***
Excerpts from "Calif. bill would protect unlicensed drivers from arrest"
Vivian Ho, Chronicle Staff Writer Monday, September 12, 2011
Supporters say the bill, AB353, would impose a consistent policy statewide - some agencies confiscate unlicensed drivers' cars now, and some do not - while keeping DUI checkpoints from being turned into traps for otherwise law-abiding illegal immigrants who cannot obtain licenses.
"In most parts of California, you basically have to have a car," said Mark Silverman, director of immigration policy at the Immigrant Legal Resource Center. "You have to be able to drive to survive, to get anywhere. Because of that, the truth is, immigrant drivers without licenses will be driving anyway because of the necessity. The towing of cars will not stop people from driving."